Hardcover vs. Paperback: Which is Right for Your Book?
Differences Between Hardcover Book Printing & Paperback Printing

Our work as a book printing and fulfillment service for a broad range of self-publishers gives us a unique view of whether it's better to print your book with hardcover or paperback binding.
The traditional way to decide is usually about how the book will be used and what price readers will accept. Hardcover is the more expensive option, while paperback can be lower priced.
But what's the most intelligent way to decide whether to print your book in hardcover or softcover?
To us, it boils down just as much to the image and the branding statement you want to make with your book.
When is Hardcover Better?
When is Paperback better?
How are They Different?
How are They Similar?
What are the Advantages of Each?
Books are Significant Branding Opportunities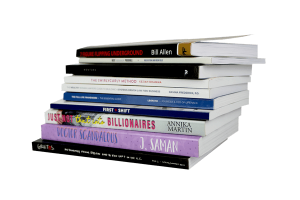 Today, an increasing number of self-publishers come to us at Acutrack to print their books for reasons other than becoming full-time authors. For them, books are more about branding.
For example, they may be self-help or life coaches, people with consulting practices, medicine, law, and finance professionals, or experts in lifestyle industries such as fashion, fine wines, spirits, watches, or automobiles.
Your book represents you to your customers, clients, patients, and the media. Therefore, it needs to be bound in the proper format to reinforce your image along with considering how the book will be used.
Hardcover Says Quality, But Paperback isn't Necessarily "Cheap"
Given their place in history, case-bound (hardcover) books are about high quality, weight, and permanence. None of those are in question, but in today's world, there are also perfect-bound (paperback) books that are elegantly printed — they are worth considering.
If you want to make an image-driven statement, don't hesitate to talk with us about the extra finishing touches you can add to printing a paperback book to elevate its appearance and quality.
How Will Your Book be Used? What's Your Brand Image?
The stitched binding of a hardcover book makes it easier to hold open than the glued spine of a paperback. Will your readers need to keep their books open widely for extended periods? Also, will they carry their books because hardcover books weigh more than paperbacks?
Think through those classic book-binding choice considerations as you make your decision. But if you have a contemporary, trend-driven business, printing a great-looking paperback book may better align with your younger brand image.
If you're printing a cookbook, manual, or journal, also consider printing a spiral-bound book to make it even more convenient to use. Spiral-bound books also can stay open indefinitely with zero wear and tear on the binding or inside pages.
Do Hardcover and Paperback Books Have Similarities?
While they have more differences than similarities, there are some things case-bound and perfect-bound books can have in common. One of them is the inside pages.
The inside pages are often printed on a similar-weight acid-free paper stock regardless of how a book is printed and bound.
Sometimes, softcover books are printed in smaller trim sizes than their case-bound counterparts, which can mean a reduced size type font to keep page counts similar. But the inside pages and formatting can often be the same for either binding choice.
---
Hardcover vs. Paperback Comparison
---
More Expensive
Looks/Feels Heavier
More Durable and Permanent
Stitched Binding Allows for Lay-Flat Option (for quantities +2000)
---
Less Expensive
Lighter and Easier to Carry
Economical for Limited Use
Needs to be Firmly Held Open
Glued Binding
---
What are the Biggest Differences?
Hardcover books have a heavier and more durable cover made from cloth-wrapped cardboard. Nearly always, it's wrapped with a paper dust jacket.
Many hardcover books have the title and author's name embossed on the cover surface. Dust jackets can be in high-gloss or heavier matte-finish paper, usually printed in color.
Paperback book covers are printed on heavyweight paper (often referred to as cover stock), either glossy or matte finish – but feel more bendable and pliable in ways that a hardcover is not.
Can I Print My Book Both Ways?
Yes, and in fact, the classic approach is to initially release your book in hardcover and follow up with lower-priced paperbacks later. Traditional publishers have operated this way for decades.
At Acutrack, we offer self-publishers all binding choices (case bound, perfect bound, spiral, wire-o), providing you with many advantages over print-on-demand books.
If you want to go the traditional route of case bound first, followed by a perfect bound edition, we're ready to help with various options and competitive pricing.
How Do I Decide Which is Better for My Book?
We recommend that you take a holistic view of your project. Ask yourself all the right questions and make a decision considering all the answers.
These questions include: How will my book be used? Do I need to be careful about pricing to maximize sales? What impact will hardcover vs. paperback have on perceptions of my brand and quality?
At Acutrack, our print run quantities are not prohibitively high, so you have flexibility. It is wise to begin with a smaller run, try each, and then continue with the more successful one.
https://www.acutrack.com/wp-content/uploads/2023/03/read-stack-education-research-li.jpg
768
975
Raj Barman
https://www.acutrack.com/wp-content/uploads/2023/07/Logo2.jpg
Raj Barman
2023-02-21 03:24:27
2023-08-11 19:05:43
Hardcover vs. Paperback: Which is Right for Your Book?